Our represented artist Juvenal Barría is featured in issue #99 of the Chilean art magazine Arte Al Límite, and with an article and interview on his work and the emergence of his alter ego, Martuca.
Find the complete article below, and read the latest issue of Arte Al Límite magazine, in English and Spanish, here.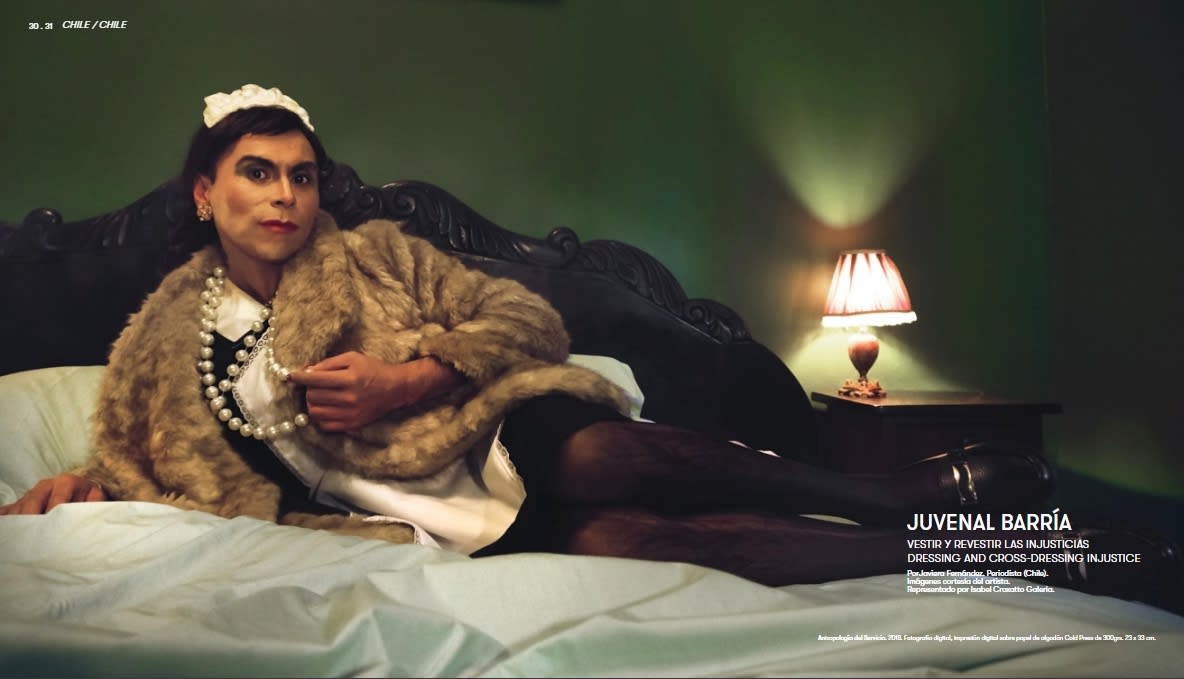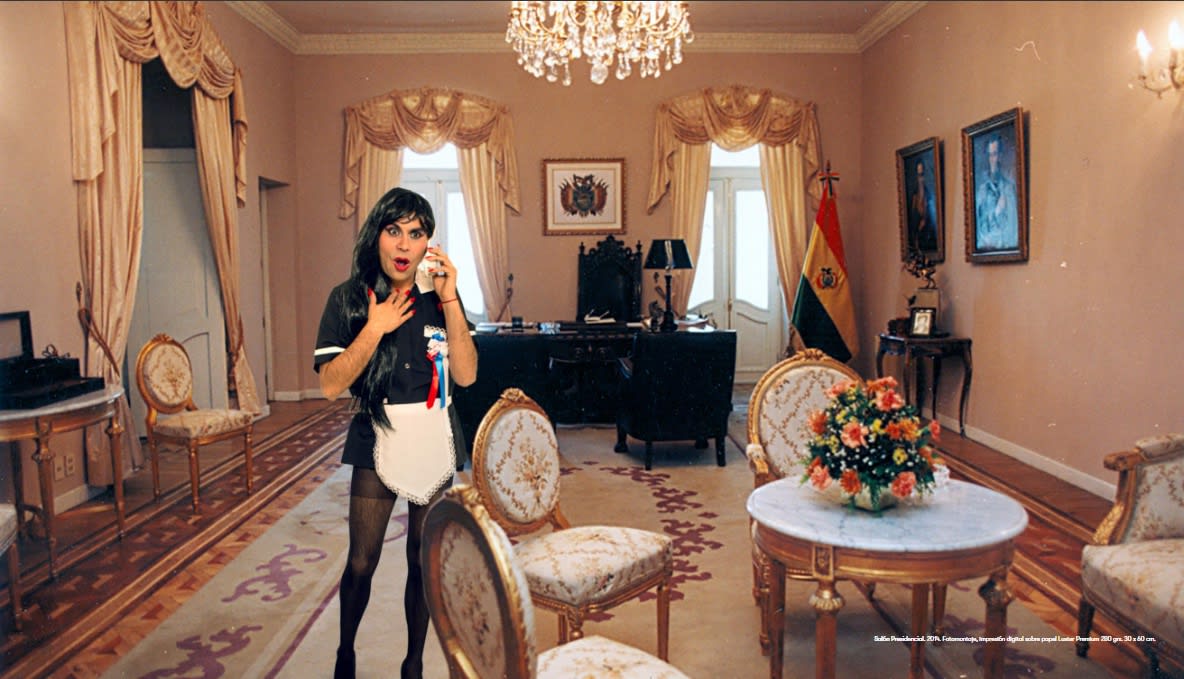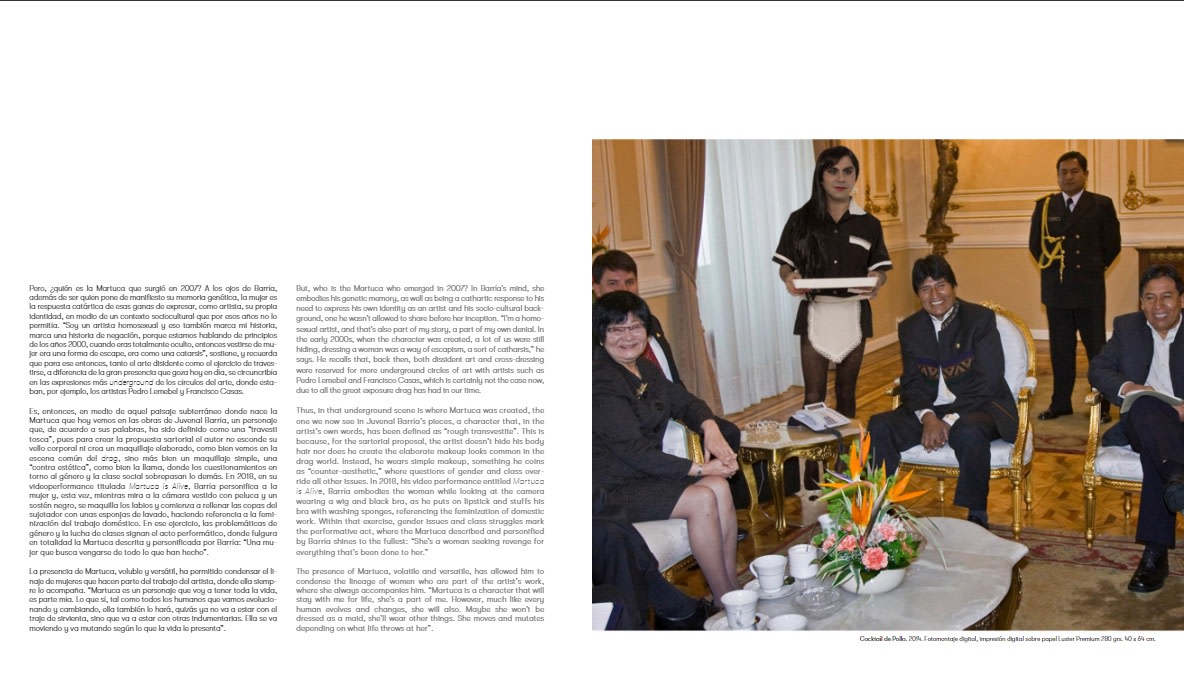 JUVENAL BARRÍA. Dressing and Cross-dressing Injustice
By Javiera Fernández
Cross-dressing has been one of the main distinguishing features of the career of Juvenal Barría, a Chilean artist. The first time he did it was in 2004, when he embodied Frida Kahlo for an art proposal challenging the stereotypical and exoticizing regard towards Latin Americans. Later, in 2007, the artist brought Martuca to life, the strong woman that still appears in his creations to this day. Dressed as a nana, the term with which Chileans commonly refer to women who do domestic work, and wearing a long-haired wig and some makeup, Juvenal Barría has become Martuca time and time again. She's a resilient and vindictive woman who stems from the artist's personal life and who he portrays in his photographs and performances.
"I have very strong memories of women," Juvenal says. For him, the Martuca character originates from his childhood memories and the wounds of the women who raised him. In fact, it's inspired in memories of his Huilliche grandmother, who was deprived of showing her indigenous roots. It was also inspired by his mother's story, who went through the experience of working as a domestic worker. This was the story that made Juvenal feel connected to his female side since he was a child. Also in his childhood, he watched a soap opera in the afternoons that shaped his work, Marta a las Ocho, the story of "a maid who travelled across the city to work in an upper class neighbourhood. I remember she had her working uniform hanging in her room. That image stayed with me forever," the artist says.
This racially-driven, patriarchal and precarious past he witnessed first-hand became the starting point of his work, which focuses in putting Martuca in various images and installations set in domestic and urban areas, dressed as a maid, a showgirl, and even as a bride adorned with cleaning rags. Martuca's clothing can change depending on the place, but the main purpose remains the same: try to reclaim and bring attention to the struggle of classes typical of the Latin American context. His piece InfiltradaX became one of the most representative pieces the artist has done in regard to this struggle. In it, he creates a series of images where Martuca, in maid garb, is portrayed in different scenes. In one part of his work, through various photographic techniques, Juvenal places the woman dressed as a maid within a series of old slides from a lady who travelled the world between the 1960s and 1970s.
But, who is the Martuca that emerged in 2007? In Barría's mind, she embodies his genetic memory, as well as being a cathartic response to his need to express his own identity as an artist and his socio-cultural background, one he wasn't allowed to share before her inception. "I'm a homosexual artist, and that's also part of my story, a part of my own denial. In the early 2000s, when the character was created, a lot of us were still hiding. Dressing as a woman was a way of escapism, a sort of catharsis," he says. He recalls that, back then, both dissident art and cross-dressing were reserved for more underground circles of art, with artists such as Pedro Lemebel and Francisco Casas, which is certainly not the case now, due to all the great exposure drag has had in our times.
Thus, in that underground scene is where Martuca was created, the one we see now in Juvenal Barría's pieces, a character that, in the artist's words, has been defined as "rough transvestite." This is because, for the sartorial proposal, the artist doesn't hide his body hair nor does he create the elaborate makeup looks common in the drag world. Instead, he wears simple makeup, something he coins as "counter-aesthetic," where questions of gender and class override all other issues. In 2018, his video performance entitled Martuca is Alive, Barría embodies the woman while looking at the camera wearing a wig and black bra, as he puts lipstick and stuffs his bra with washing sponges, referencing the feminization of domestic work. Within that exercise, gender issues and class struggles mark the performative act, where the Martuca described and personified by Barría shines to the fullest: "She's a woman seeking revenge for everything that's been done to her."
The presence of Martuca, volatile and versatile, has allowed him to condense the lineage of women who are part of the artist's work, where she always accompanies him. "Martuca is a character that will stay with me for life, she's a part of me. However, much like every human evolves and changes, she will too. Maybe she won't be dressed as a maid, she'll wear other things. She moves and mutates depending on what life throws at her."
19 November 2021