Our represented artist Víctor Castillo is featured in the April issue of Chilean arts and culture magazine La Panera, with an interview on the occasion of his latest exhibitions Sweeter than Roses at Isabel Croxatto Galería and Somewhere Over the Rainbow at HelMel Studios (Los Angeles), and the recent publication of a monographic book comprising 15 years of his career.
Find the complete article here (in Spanish), and an English translation below.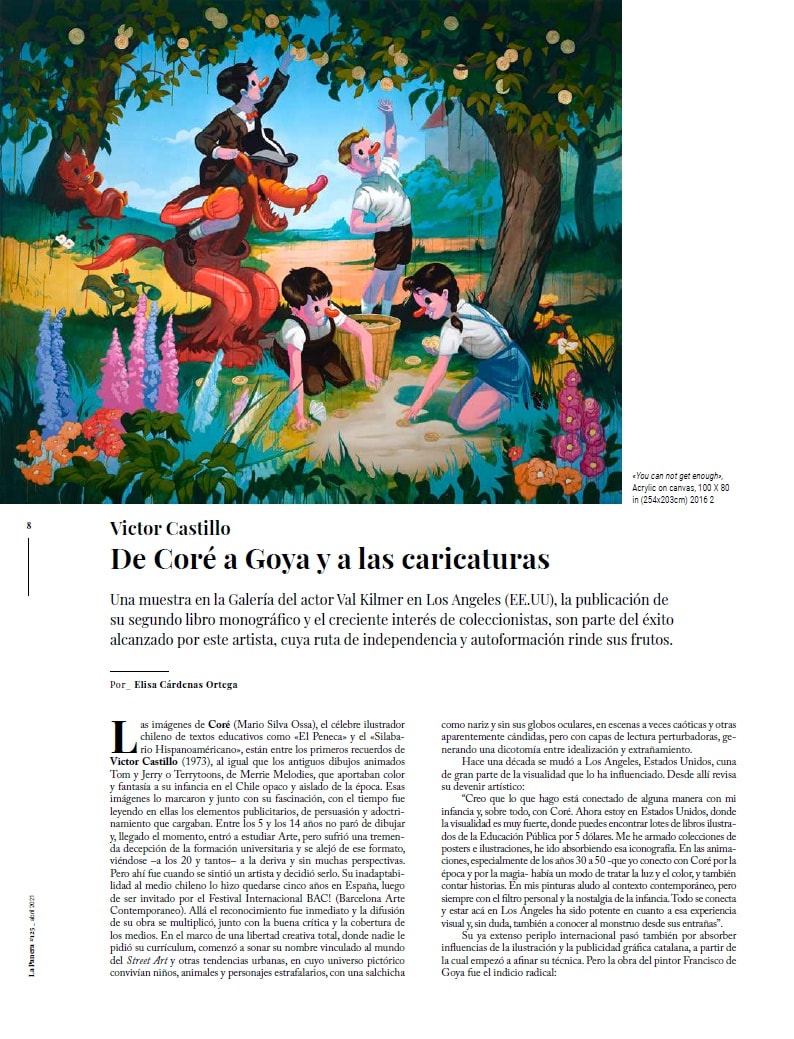 Victor Castillo
From Coré to Goya and cartoons
An exhibition at the actor Val Kilmer's gallery in Los Angeles (USA), the publication of his second monographic book and the growing interest of collectors are part of the success achieved by this artist, whose path of independence and self-training is paying off.
By Elisa Cárdenas Ortega
The images of Coré (Mario Silva Ossa), the famous Chilean illustrator of educational texts such as El Peneca and the Silabario Hispanoaméricano, are among Victor Castillo's (1973) earliest memories, as are the old Tom and Jerry cartoons, Terrytoons, and Merrie Melodies, which brought colour and fantasy to his childhood in the opaque and isolated Chile of the time. Those images marked him and, along with his fascination, he eventually began to read in them the elements of advertising, persuasion and indoctrination that they carried. Between the ages of 5 and 14, he did not stop drawing and, when the time came, he began to study art, but he suffered a tremendous disappointment with his university education and moved away from that approach, seeing himself - at the age of 20-something - adrift and without many prospects.

But that was when he felt he was an artist and decided to be one. His lack of adaptability to the Chilean milieu made him stay in Spain for five years, after being invited by the BAC! International Festival. There, recognition was immediate and the diffusion of his work multiplied, along with good reviews and media coverage. In the context of total creative freedom, where no one asked him for his CV, his name began to be associated with the world of Street Art and other urban trends. In his pictorial universe, children, animals and bizarre characters coexisted, with sausages for noses and without their eyeballs, in scenes that were sometimes chaotic and others apparently candid, but with disturbing layers of interpretation, generating a dichotomy between idealisation and estrangement.
A decade ago, the artist moved to Los Angeles, USA, the birthplace of much of the visual art that has influenced him. From there he reviews his artistic development: "I think that what I do is connected in some way to my childhood and, above all, to Coré. Now I'm in the United States, where visuality is very strong, where you can find lots of illustrated books from Public Education for 5 dollars. I've built up collections of posters and illustrations, I've been absorbing this iconography. In animations, especially from the 1930s to the 1950s - which I connect with Coré because of the period and the magic - there was a way of dealing with light and colour, and also storytelling. In my paintings, I reference the contemporary context, but always with the personal filter and the nostalgia of childhood. Everything connects and being here in Los Angeles has been powerful in terms of that visual experience and, without a doubt, also to know the monster from its entrails".
His already extensive international journey also involved absorbing influences from illustration and Catalan graphic advertising, from which he began to refine his technique. But the work of the painter Francisco de Goya was the radical turning point: "I never felt comfortable in the academia, I was expelled from the Universidad Católica and didn't get to attend painting classes. When I left Chile, painting for me was an excuse to say things and I kept that discourse. I crossed paths with graffiti artists, with urban illustration, where academia didn't matter, but when I visited the Prado Museum and saw Goya's 'black paintings' I experienced something that I would never have had through books or slides. Being in front of the original is something else. I was struck by the power and the work of light, and unconsciously a connection was generated little by little in my practice between how Goya approached the light, from the academia - although he is considered the first Modern artist - and it came together with Coré, with my attraction for the darkness of some Merrie Melodies, where the shadows were important, even expressionist (they coincide with the Expressionism of German cinema or also with Film Noir). I fell in love with Goya's light, as well as with his condition as a chronicler of his time, and I also try to illustrate through painting what I understand of today's reality".
With a recently opened solo exhibition at Helmel Studios, owned by actor Val Kilmer (The Doors, Batman Forever), who contacted him to exhibit and edit a book that reviews his work of the last 10 years, Castillo emphasises: "It is very common in my work that my allies, support or feedback do not come from specialised art, but from design, music and, in this case, film. I think this exhibition will be a direct ticket to the heart of Hollywood. I am impressed with Val Kilmer as a professional, as a person and also as a friend, with the respect with which we have worked, these things re-enchant me with the United States".
What do the sausage noses and empty eyes mean?
"They are related to the idea of lies, hypocrisy, swindling and, on the other hand, to blindness, the product of ignorance, of unconsciousness, all situations that I see in advertising, in the teaching of children, in toys, in the media, in the stories of hegemonic power, ultimately. The nose comes from Pinoccio's tale, but I also work a lot with visions, and things emerge from the information I collect. Different sources are involved and I realised that I found my own imprint".
"I draw a lot of inspiration from dreams and my work is often based on visions, and I'm not afraid to say that because it sounds irrational or far removed from what might be theoretical work. Perhaps it is just that with the excess of theory in self-styled 'official' art, to be emotional now is to offer a necessary difference, something disruptive. I think that art often lacks humour, and can be too solemn or pretentious. I like to say that I paint as if I were a musician, I love music and I consider that image and music go hand in hand. The empty eyes were a vision I had, and I think that makes my work disturbing and many people understand it; I can exhibit it anywhere and everyone will understand at first glance because the images enter a territory of the collective unconscious. But that's the first reading because by working with the unconscious what I do is open up possibilities of reading and that's what I love: when spectators see things that I hadn't seen in my work, and they make sense, that's how I feel they transcend me. I think my work generates something and has a power that continues to surprise me. This also allows me to be independent, not to be attached to institutions or schools".
His characters smile (cynically) as in advertising messages, where everything shines and shows a friendly face. Like in classic cartoons, Castillo includes very few adults in his paintings, and if they appear it is in a supporting role: "In cartoons like Charlie Brown or Tom and Jerry, you don't see the adults, or only their feet are shown. In my paintings, they don't usually have a face, because when I talk about indoctrination or reflect our unconsciousness as a society, the lack of evolution, ignorance, childhood works for me as a metaphor for what is not yet forged. Children are sometimes very cruel and at the same time they translate their environment, and in that sense, they are a reflection of society".
I'm not from here...
His iconography has been linked to movements such as Lowbrow Culture, a concept opposed to "High Culture" coined in California in the late 1970s and revived since the 1990s in magazines like Juxtapoz, BLAB!, Hi-Fructose and others that have focused on these works. Despite recognising himself in these spheres, Castillo points out an equidistance: "In the book I have just released there is a text by Kirsten Anderson, director of the Roq La Rue gallery in Seattle and creator of the concept of Pop Surrealism, generating a whole wave inspired by fantasy, dreams, cartoons, tattoos, Santeria and other elements of low culture. I got to know these movements through the internet when I lived in Chile. I discovered La Luz de Jesús Gallery in Los Angeles and that opened a window to the most prominent artists of the Lowbrow and Pop Surrealism movement. It was love at first sight. Once here, I met the artists, I've had the chance to exhibit with them and I'm considered one of them. That's when I realised that I don't feel identified with this movement and even less with American culture. I don't belong here and the North American influence that I experienced in my childhood, in a Chile where culture was very repressed and everything came to us packaged from the 'Empire', provokes in me a kind of love-hate".
In his opinion, these movements that have arisen in North America often lack political density, which is a fundamental concern in his pictorial discourse, accentuated by the institutional crisis that Chile has been experiencing since October 2019: "I was very emotionally affected when the social outburst happened. I felt involved, alluded to as an artist and euphoric at first; but later, with the extreme repression, I began some illustrations on paper representing eyes, real but ghosts, eyes that are floating, that no longer exist, that have been mutilated. It's the death of vision, it's as if they wanted to blind us with the slogan 'Chile woke up', a horrible symbolism is formed. I had nightmares because during the dictatorship I lived through similar situations and I feel part of the 'generation of fear'; several times I was arrested or had guns pointed at me just for walking by, so today the uniforms make me feel suspicious. And this rejection has extended to my travels; here the police are very aggressive and people are fed up with this violence. When a policeman threatened me with a gun for not having lights on my bike and trying to walk home, two blocks away, it was like going back to the Chilean dictatorship. My rejection of the abuse of power extends beyond Chile, it's a global problem".
His connection with Chile has been reactivated thanks to the gallerist Isabel Croxatto, with whom he recently presented the series of prints Sweeter than Roses, with accompanying texts by the editor Dian Hanson, and with whom he is preparing an exhibition in Santiago for June. Croxatto has also contributed to the internationalisation of his work, taking it to places like Istanbul: "The popular Turkish actor and art collector Cem Yilmaz has bought my work. In Istanbul they treated me like a star and I have a big market there".
Do you generally make a living from your work?
"Yes, since I left Chile I live from my art and I don't have the prejudice that if I make editions it's less art; I never had that. When I studied art, I did everything: sculptures, video, installations, but it clashed with what the university understood as art education. I felt disillusioned, there was a total divorce with the establishment, and despite the fear of being alone and not having institutional support, the day I left there I felt enormous relief to get rid of that influence. Today I never cease to be surprised because the people who are talking about my work are much more than I expect, and it grows and grows...".
23 April 2021