Our represented artist Cecilia Avendaño is featured in issue #98 of the Chilean art magazine Arte Al Límite, gracing its cover with her artwork EP 20, Enfermedades Preciosas from her series Enfermedades Preciosas, and with an article and interview by the Bachelor in Hispanic Literature Juan Pablo Casado on her work with photography and being a woman in Western society.
Find the complete article below, and read the latest issue of Arte Al Límite magazine, in English and Spanish, here.
Cecilia Avendaño: Women's Obvious Silence
By Juan Pablo Casado
Finding beauty in illness as the glorification of pain through discomfort is the subject Cecilia Avendaño addresses in Enfermedades Preciosas. The exhibit combines portraits and photography to express the obvious and unconscious reality women experience in the modern world.
One of the main goals of her work seems to be inspiring nostalgia: "A photograph is both pseudo-presence and a token of absence. Like a wood fire un a room, photographs – especially those of people, of distant landscapes and faraway cities, of the vanished past – are incitements to reverie," Susan Sontag assured in "On Photography".
Sontag, whose main passion was photography, openly questions the concept of beauty that rules modern women: "It is not, of course, the desire to be beautiful that is wrong but the obligation to be – or try. What is accepted by most women as a flattering idealization of their sex is a way of making women feel inferior to what they actually are – or normally grow to be. For the ideal of beauty is administered as a form of self-oppression."
The work by Chilean artist Cecilia Avendaño addresses the concept of identity by exploring beauty ideals, femininity and the body in a contemporary world where the division of the subjective and superficial universe is a natural consequence of the role the individual takes on in real life.
After 5 years of research, this argument ultimately led up to Enfermedades Preciosas, where Avendaño presents 19 images created from traditional portraits and digital means, all of which propose an ideal of beauty that moves away from Western standards. "The project started that way, much more connected to women's issues. Later, it took on a spiritual dimension, as well as our relationship to nature. It started with thinking about what it meant to be a woman in our current society, our somatizations and that's when I landed on diseases," she explains.
Cecilia Avendaño works with the idea of returning to the essence and a connection with the spiritual, where women can emerge as absolute sovereigns of their destiny and their individuality becomes unyielding. The artist plunges into a dreamlike unconscious universe to show us that illnesses go beyond mere physicality; they're also emotionally founded.
"I am a woman," Cecilia says, adding: "I've been going through the process of finding myself, of standing in front of others. It's a process I started as a girl and continued as a teenager and a woman; I've experienced it to the fullest extent. My issues become physical pain, but I also thought about what it meant to be a woman, its historic load, the ways we have carried ourselves for centuries; it's a long, complex and painful history that's impossible to ignore. I don't put it into words, I carry it inside me and show it through my work, my questions and characters."
Each image features women with piercing gazes and closed lips, reminding viewers of the discomfort of being silent while seeking to tell their story and healing by doing so. Finally, the disease becomes a vessel for women to express what they have not told and that, due to personal or environmental reasons, has morphed into pain.
"I believe that introspection about pain leads us to healing. I don't think we can overlook this. We can't begin to grasp a lot of things if we don't go through that process. Nobody wants to face pain; we avoid or cover it but if we don't face it, experience it, we can't move past it," Cecilia Avendaño says. This is what she captures in her work, where vegetation prospers as a representation of a healing and therapeutic symbiosis of someone who has finally been able to confront and bring their pain to light.
The narrative is thus intimately linked to the reality of female experience, a reality with a historic and existential load that has found a voice through art and culture. Finally, all that artwork is assembled in a poetic act that transforms dreams into visual structures of the indescribable. Here, disease is not regarded from a merely pathologic perspective but as an act of sublimation, as taking the chains that bind us to transform pain into healing.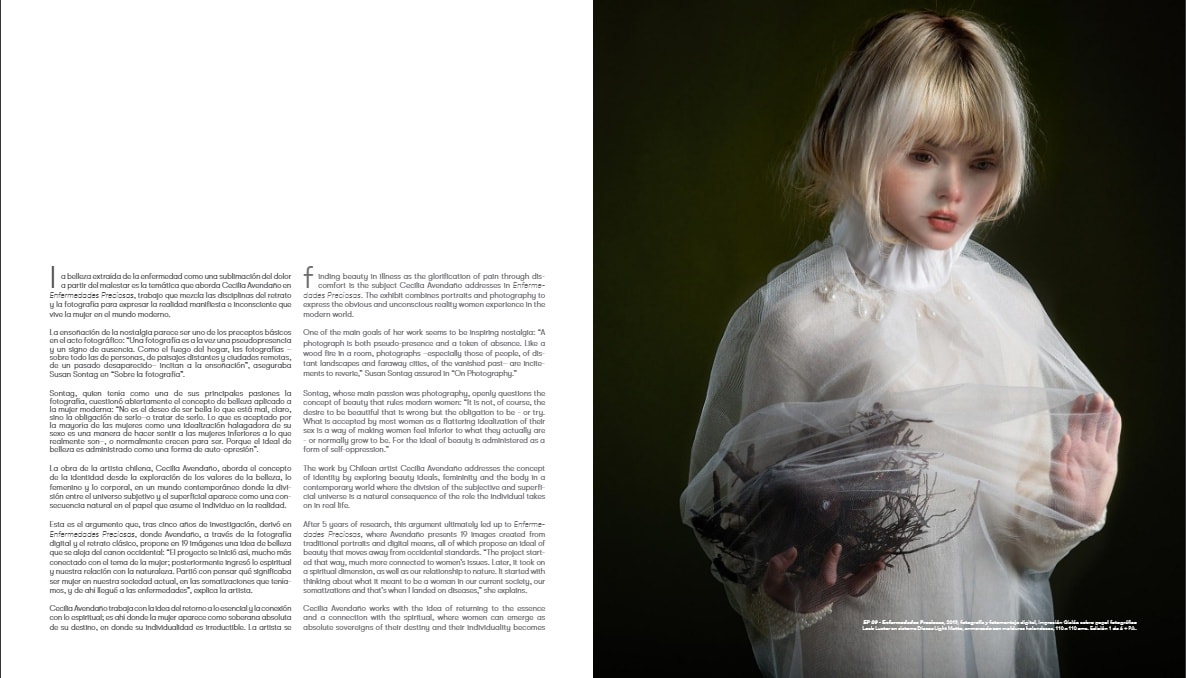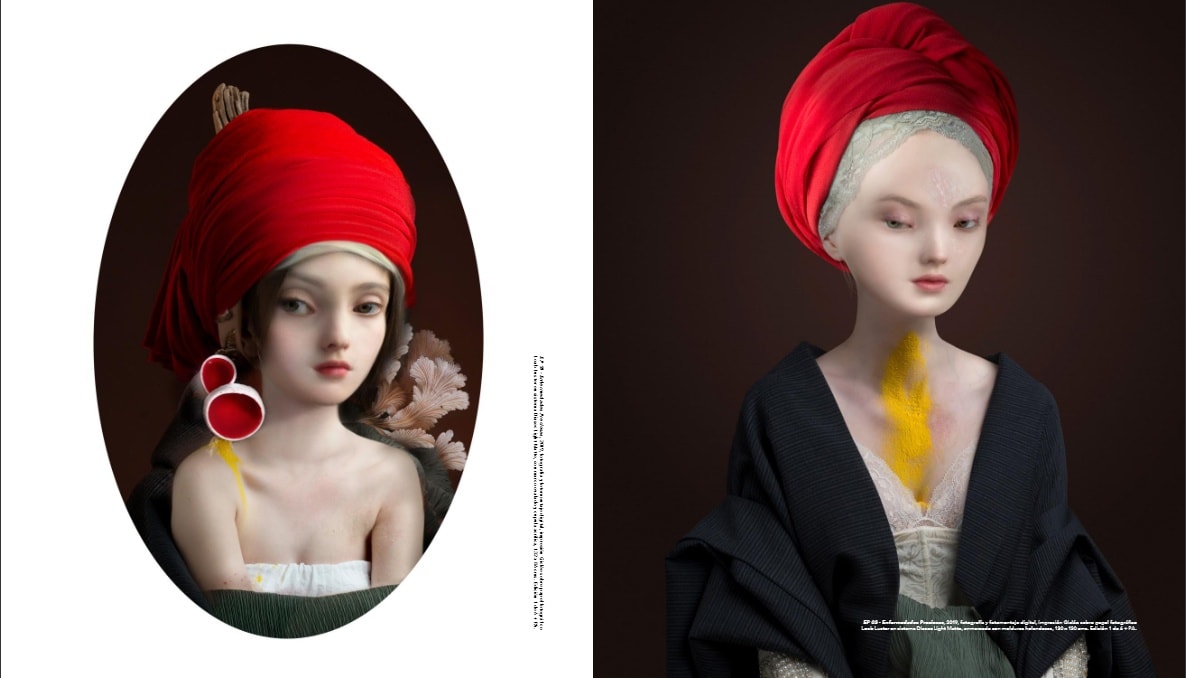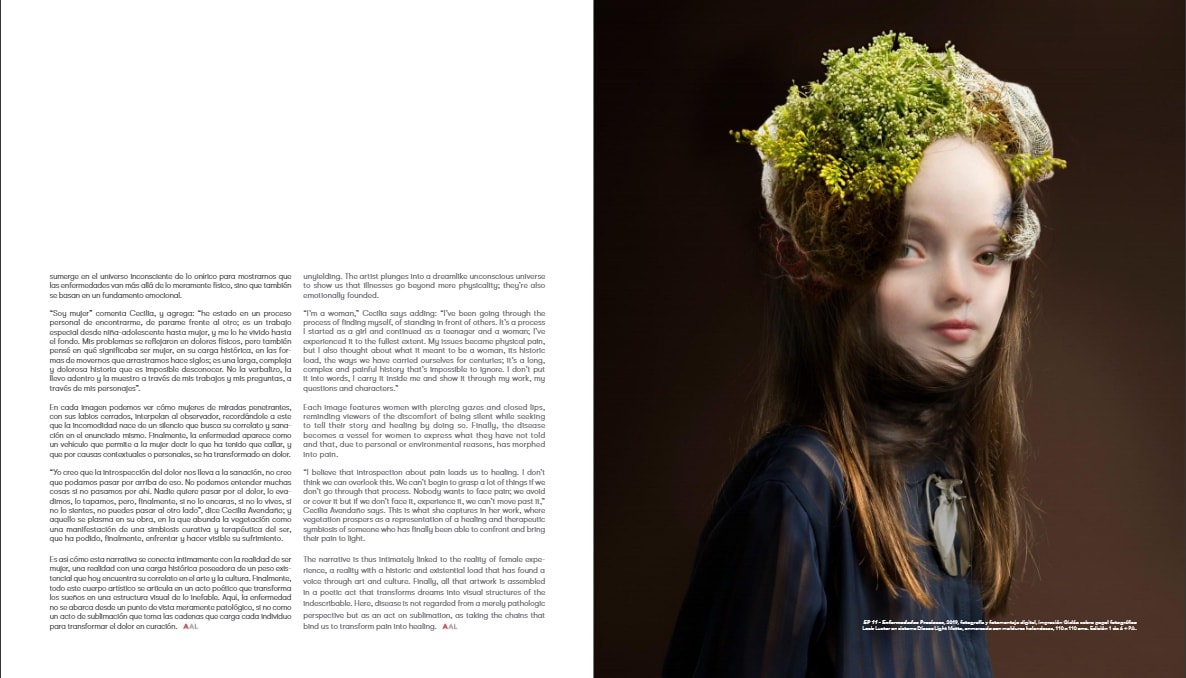 10 June 2021