The Brazilian contemporary art platform ARTEQUEACONTECE features our latest virtual exhibition CUIR, Curated by Chiachio & Giannone, presented online by Isabel Croxatto Galería.
Find the complete review here (in Portuguese).
English translation available below.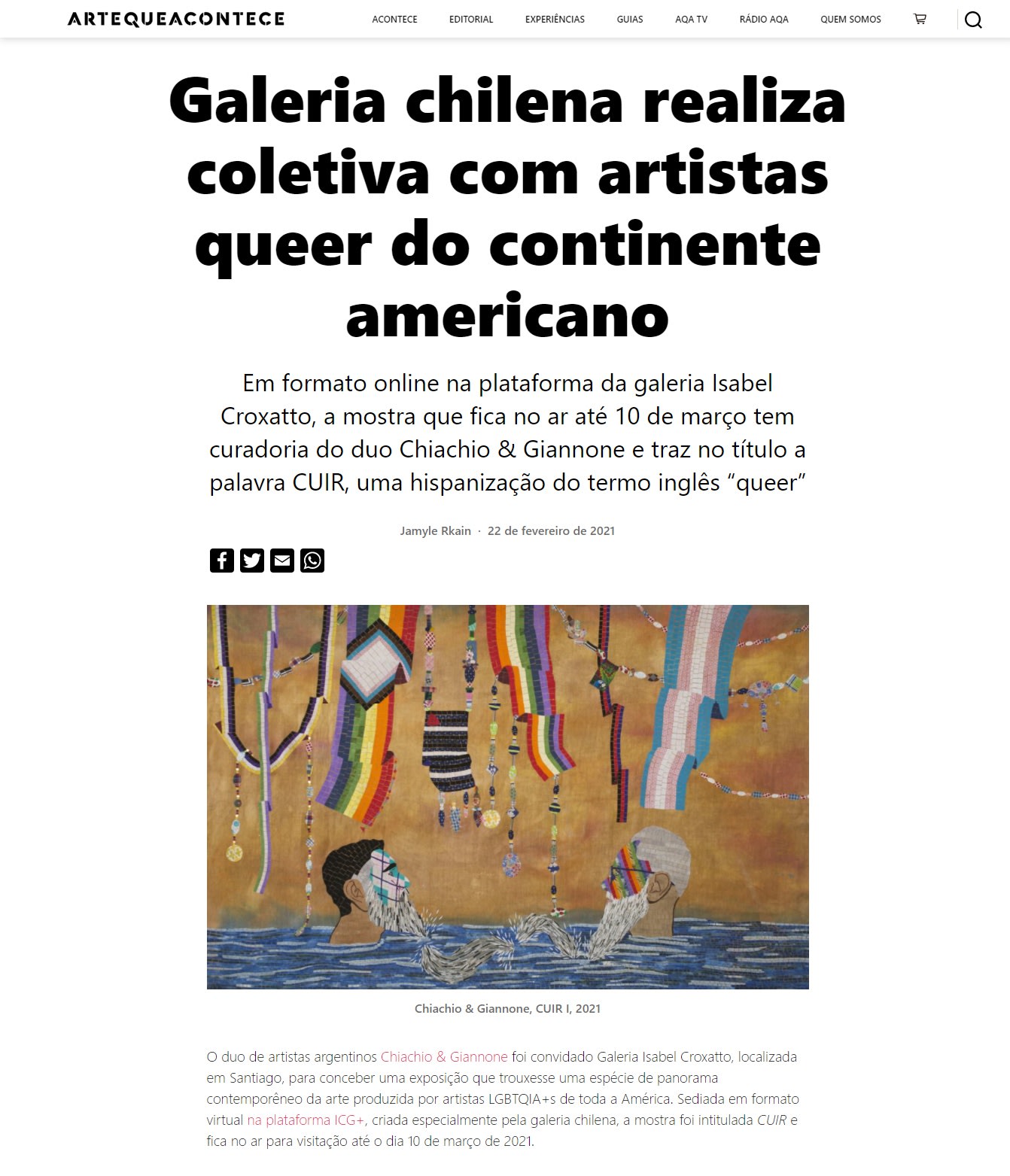 Chilean Gallery presents a collective exhibition with queer artists from the American continent
Available online on Isabel Croxatto Galería's online platform, the show, which runs until 10 March, is curated by the duo Chiachio & Giannone and its titled CUIR, a Hispanisation of the English term "queer".
Argentinean artistic duo Chiachio & Giannone were invited by Santiago-based Isabel Croxatto Galería to conceive an exhibition that would feature an overview of contemporary art produced by LGBTQIA+ artists from across the Americas. Hosted virtually on its ICG+ platform, specially created by the Chilean gallery, the show has been titled CUIR and is presented online until 10 March 2021.
The title of the show refers to the term "cuir," a Hispanisation of the English word "queer," which was used as a form of insult to the LGBTQIA+ community and was re-appropriated and re-signified by it as an expression of empowerment and resistance. The curators explain that 'queer has a broader meaning: it is not only about stepping out of the binary categories of sex and gender, but also about a theory, methodology and practice that characterises a desire, an affection, and we could say that its main power lies in its role as a performative act.'
The curators-artists Leo Chiachio and Daniel Giannone began with a proposal for the exhibition considering the perspectives from a variety of territories, gathering artists from the United States, Mexico, Chile, Argentina and even Brazil. A multiplicity of artistic practices was also considered, encompassing various formats and materials, such as embroidery, photography, drawing, painting, video and performance.
The exhibition includes a video presenting the works one by one, which are also displayed virtually. In other sections of the platform, the works and installations can be seen individually in more detail.
The 20 artists participating in CUIR were chosen by the curators as part of what they call a "family constellation in art". The term refers to artists they have been following for some time and who share the same interests in the search for new meanings. They are Aaron McIntosh, Catalina Schliebener, Cristina Colli, Curtis Putralk, Federico Casalinuovo, Franco Mehlhose, Gabriel García Román, Joey Terrill, John Thomas Paradiso, Juvenal Barría, Matías de la Guerra, Marino Balbuena, Max Colby, Paloma Castillo, Rebecca Levi, Rodrigo Mogiz, Rodri & Lenny, Rubén Esparza and Sebastián Calfuqueo. Completing the constellation, works by Chiachio & Giannone are also part of the show!
To visit the exhibition, simply access the exhibition platform which is within the gallery's website. The ICG+ platform was developed by the interdisciplinary collective deeptime.art and was sponsored by ProChile, agency of the Government of Chile for the promotion of Chilean industries abroad.