Our represented artist Paloma Castillo is featured in the Summer 2021 issue of the Dutch textile art magazine Textiel Plus, dedicated to Faces.
Interviewed by Dorothé Swinkels, Textile Biennial advisor to the Rijswijk Museum in The Hague and former coordinator of the fashion and textile department at The Maastricht Institute of Arts in The Netherlands, Paloma reviews aspects of her work and how she got into embroidering.

Find a complete translation of the article below.
The Summer 2021 issue of Textiel Plus magazine can be ordered online at textielplus.nl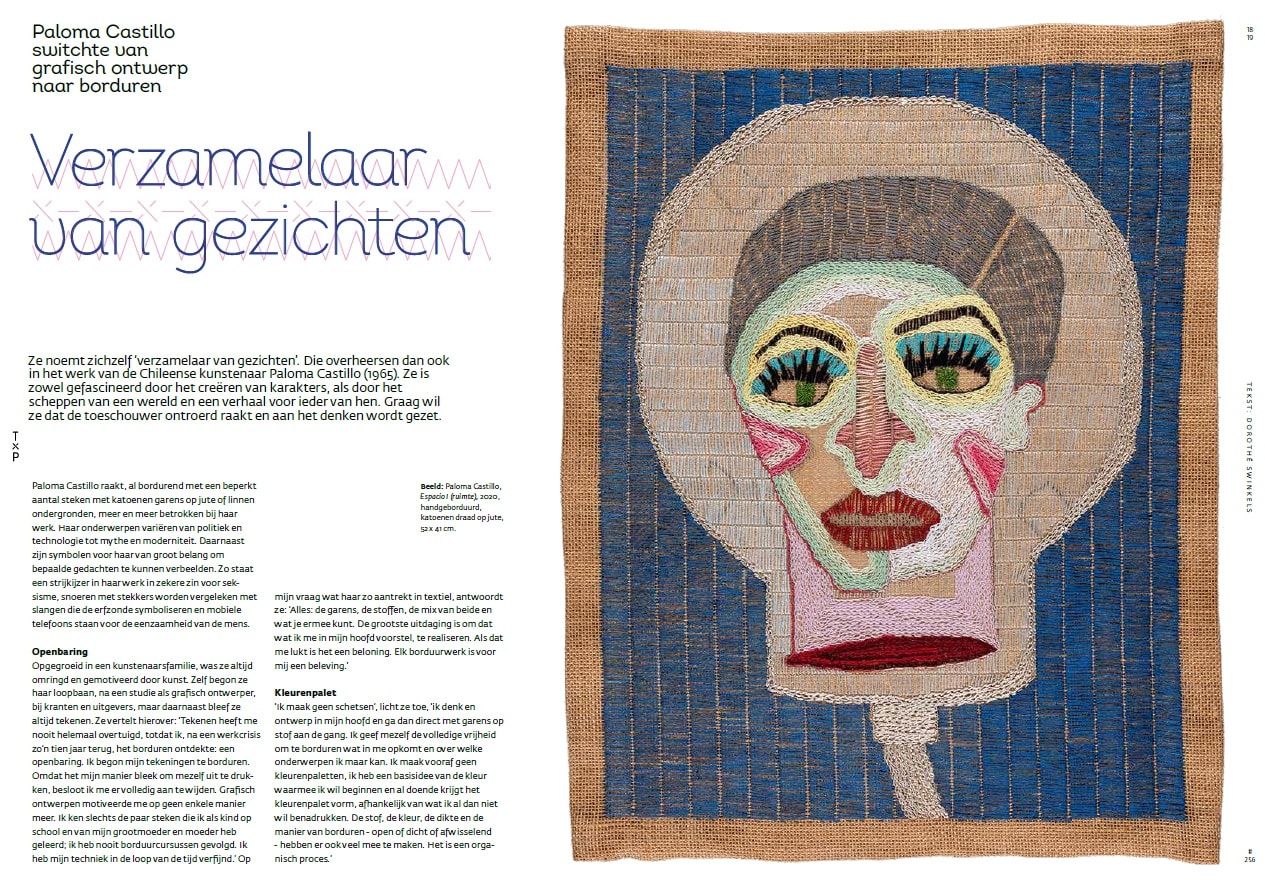 Paloma Castillo switched from graphic design to embroidery.
Collector of Faces
By Dorothé Swinkels
She calls herself a 'collector of faces'. Faces dominate the work of the Chilean artist Paloma Castillo (1965), who is fascinated by creating characters, and creating a world and a story for each of them. She wants the viewer to be moved and stimulated to think.
Paloma Castillo gets increasingly engaged in her work, embroidering with only a selected number of stitches with cotton threads on jute or linen fabrics. Her topics vary from politics and technology to myth and modernity. In addition, symbols are of great importance for the artist to represent her thoughts. An iron in her work, for instance, stands for sexism; cords with plugs simulate snakes that symbolise original sin, and mobile phones stand for man's loneliness.
Revelation
Having grown up in an artistic family, Paloma was always surrounded and motivated by art. Her artistic career began after working as a graphic designer for newspapers and publishers, although she kept drawing from an early age. The artist explains: 'Drawing never fully convinced me until, after a work crisis about ten years ago, I discovered embroidery: a revelation. I started to embroider my drawings. As it proved to be my way of expressing myself, I decided to devote myself to it fully. Graphic design no longer motivated me in any way. I only know the few stitches that I learned as a child at school and from my grandmother and mother; I never took embroidery classes. I have refined my technique over time.' When I ask her what attracts her to textiles, Paloma answers: 'Everything: the threads, the fabrics, the mix of both and what you can do with them. The biggest challenge is to achieve what I imagine in my head. If I succeed, it is a reward. Each embroidery is an experience for me.'
Colour Palette
'I don't make sketches,' the artist explains. 'I create and design in my head, and then I go straight to work with threads on the fabric. I give myself complete freedom to embroider whatever comes into my mind and on whatever topics I can. I don't make colour palettes beforehand; I have a basic idea of the colour I want to start with, and, as I go along, the colour palette takes shape, depending on what I want to emphasise. The fabric, the colour, the thickness and the way of embroidering - open or closed, or alternating - have a lot to do with it. It is an organic process.'
It takes Paloma from a week up to a month to complete an artwork, depending on its size, fabric and threads she wants to use.
Ideas Folder
Paloma takes her motivation in current events, finding inspiration in all she sees and reads, having the habit of reading all the newspapers from Chile and abroad she can. The internet is an encyclopaedia for her to find interesting images. She keeps in a folder on her computer that she calls 'Ideas', her archive, everything that catches her attention and that she would like to try to process at some point. Sometimes there are photos or paintings by other artists that she reinterprets. For example, Paloma admires the works of David Hockney, Lucian Freud, Georgia O'Keeffe and Kazimir Malevich and many other painters, but also icons in photography: Robert Mapplethorpe and Richard Avedon. Quite relevant is the Bauhaus, as a movement and as a transversal idea in the arts and everyday life.
Make-up Against Recognition
'The work Espacio II was conceived amid the pandemic in my country in 2020. During the quarantine, I saw a news report about the 2019 youth protests in Hong Kong and how the young people fooled face recognition by wearing make-up to avoid being arrested that way. I applied that style of make-up to the face in the embroidery. Then I made the connection between isolation and not being recognised as a means of escape.'
12 July 2021